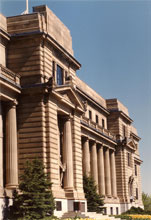 In 1991 ROUTEBURN identified and promoted the adaptive re-use of the National Research Council building on Sussex Drive as the new Embassy of the United States in Canada. It is located on the Ceremonial Route between the British High Commission and the French Embassy, across the street from the Department of External Affairs. This highly prestigious site meets all the requirements as established by the NCC.
The building, built in 1932, is sadly outdated as a laboratory facility and new premises located at the NRC campus on Montreal Road would be welcomed. Sensitively renovated, the magnificent interiors of this handsome Federal style building would be impossible to duplicate in any modern building.
Above all, 100 SUSSEX DRIVE looks like an American Embassy!