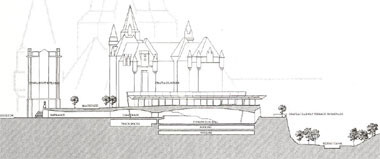 In 1992 ROUTEBURN proposed that a National Capital Convention and Exhibition Centre be built underground at Major's Hill Park. It would assume the role of the "Nation's Living Room", a gathering place for Canadians and visitors within the shadow of the Peace Tower.
Situated on the Ceremonial Route and enjoying a breathtaking view of Parliament Hill, this site is proximate to the National Gallery, the Byward Market, the Congress Centre, the National Arts Centre, the Federal Conference Centre, the Rideau Centre and Ottawa's premier hotels. Such a facility located on this site would synergistically enhance the use of this extensive urban infrastructure and would become a major link in a climate-controlled pedestrian network connecting them all.
The construction of the facility underground allows for the redevelopment of the Park above into an extensively landscaped outdoor "room". The various festivals hosted at the site would have an improved and serviced venue with the benefit of the huge underground facility located directly below.